Post by narenek on Jan 14, 2018 2:00:46 GMT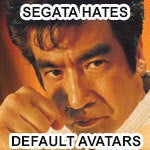 SFz 3 if I can find at a decent price
I don't really collect but I've been picking up JP titles when I can get them cheap and have to admit I wouldn't mind getting the Capcom Titles completed.
Outside that it seems that Retro-bit are exhibiting at CES and they have shown off their Sega wave 1 stuff.
Wireless Saturn controllers seems a must have, and probably a Saturn VGA box.
In the future maybe we could see a Saturn retrocade style console

Wireless Saturm controllers are definitely NOT a must have. If you need extra length on the cables go buy the extension cables or US Multitap instead.
They are for me, 2 young kids running around so trailing cables can lead to problems. It also looks a bit tidier without the cables poking out once everything's stored.
But it's horses for courses, some people don't like them some do. I just happen to be one who does