Post by termis on May 13, 2010 23:43:37 GMT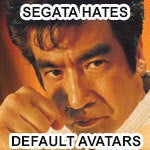 I have some problem as well with the action replay plus 4M 3 in 1 , I've jsut bought one from Play Asia.
I started my saturn and the action menu comes up. I went into the memory manager and copied the internal savefile to the card. Now I had the save in both spots.
After that I started the game but could only choose from the internal memory. I loaded it anyway, went into the game and to a place ingame were you were you should be able to save only to a memorycard. But there it said no memory installed.
So I rebooted the system, deleted the save file from the internal memory, started the game but I couldnt load any save at all from there.
After that I pluged out the memorycard and plgued it in again, after that both savefiles were gone, nothing left. So now 40 hours of gaming on Dragon Force is gone.
Can anyone tell me what I did wrong here, why didnt the console found the savefile on the catridge and why did it disapear complety from there when I pluged it out? Is it broken?
Now the system doenst find the catridge at all but I will try do as you guys posted above with plug it out and in again some times. Will even try to clean it with a creditcard,t-shirt and alcohol
deadite answered your ques about the fact that save files can't be saved direct to PAR carts (I know, it's a pain in the ass -- I use an original sega brand cart for that).
As to why it didn't keep your saves, did you make sure to "confirm" the transfers? PAR memory manager only moves your files on confirmation of the move -- that is, moving the file isn't done real time -- Once you move over your memory from one place to another, you have to press the exit menu button (think it was button B from memory), and get the confirmation message that the save files actually got transferred. If you turn your system off BEFORE this message, then the save files won't have actually moved yet.