Post by TrekkiesUnite118 on Jul 23, 2013 2:58:50 GMT
I figured this might be a good thing to have as questions concerning this tend to pop up from time to time. I figure we can each add our own bits of information to it to mold it into a decent guide. We can probably either sticky this or put it on the main website when it's ready. We can also have an area to compare quality between the cards to see if there's any truth to the rumor that different cards have better or worse quality.
So without further interruption,
What is the MPEG/Video CD Card?
The Video CD card was an add-on Released for the Sega Saturn in Japan and Europe. It goes into the back of the Saturn above the battery slot and enables the Saturn to decode MPEG-1 encoded videos.
MPEG Videos?! Does that mean the Saturn can do DVD Quality FMVs?!
Not Quite. DVDs use MPEG-2 (or MPEG-4 for some bootlegs). It allows for higher quality encoding with less artifacts. In addition DVDs are encoded at 640x480, where as Video CDs are encoded at 352x240.
This was a misconception I saw being thrown around on another forum.
Do any games use this add-on?
As of writing this about 12 games are known to use it. This list includes the following taken from Sega Retro:
Chisato Moritaka: Watarasebashi/Lala Sunshine
Falcom Classics (disc 2 of the limited edition)
Gungriffon (Japanese version only)
Lunar: Silver Star Story Complete
Moon Cradle
Sakura Taisen Hangumi Tsuushin
Sakura Taisen Nekki Radio Show (a.k.a. Steam Radio Show)
Vatlva
Wangan Dead Heat + Real Arrange
Wangan Dead Heat + Triangle Love
Yuukyuu Gensoukyoku Hozonban Perpetual Collection
Yuukyuu no Kobako Official Collection
Of these Lunar is the only game that requires the card.
Are there any different versions of the card?
There are 8 different models. There are two made by Sega, one for Japan, the other for europe. There are 4 made by JVC/Victor. And finally there are two made by Hitachi.
I saw a Rare US Video CD Card on eBay! It must be a rare artifact. Should I pay the $200 for it?
The Video CD card was NEVER released in the US. Any you see on ebay are the European Cards in the hands of stupid people/scammers.
Are there any compatibility issue between the cards?
The European card is designed to work with PAL video. So there's a good chance it might have issues in an NTSC system or trying to play NTSC games.
(If anyone wants to confirm this feel free to do so)
Also, NTSC cards will only work in a Japanese Saturn or a Saturn that has been region modded. If you try it in a stock US Saturn you will get an error that reads "Disc requires a System Application."
How is the Quality?
The quality is decent considering what it is. Don't expect DVD quality, but it's definitely a step up from the standard Cinepak/TrueMotion encoding. Supposedly some cards have higher quality decoding than others.
Is it worth tracking down a card?
Honestly unless you want to play Lunar Silver Star Story Complete, not really. At this point the card is mostly a novelty. If you can find one cheap though it's still a fun novelty to pick up.
What are the differences between cards?
The first main difference is that the European Card is PAL only. The later 2 JVC/Victor cards are NTSC/PAL compatible. The second main difference is that the latter 3 JVC/Victor cards also support Photo CDs.
Also, beware of bootleg cards: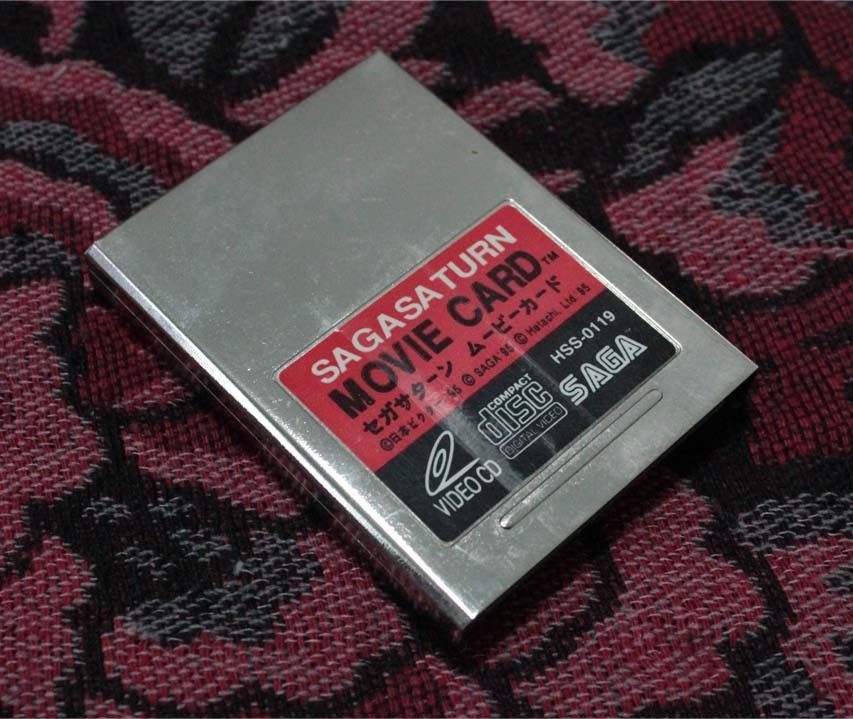 www.ebay.com/itm/SEGA-SATURN-MOVIE-CARD-HSS-0119-LOT-C-PLAY-VIDEO-CD-COMPACT-DISC-DIGIT-/221255687683?pt=LH_DefaultDomain_0&hash=item3383ddde03
How does the quality compare?
The only card I have is the standard Japanese Sega one:
I can't comment on how it compares, but only on how it looks. Overall the Quality is Decent, the only complaint I have is there's a noticeable jailbar pattern on solid colors. It's subtle but definitely there:
I don't know if this is par for course for all the cards or just mine as I have no frame of reference. Though in motion it's really only noticable when you're really close to the screen or when it's on a big screen:
So that's pretty much what I know about the thing, if anyone has more info or comparison shots for the other cards feel free to add them here.